Kitchens / Restaurants
Water-repellent fire doors – SP150 HYDROFEU®
The SP150 HYDROFEU® water-repellent fire door was developed specifically for professional kitchens and food industry environments with two main objectives: to comply with the very strict hygiene standards required in these environments and ensure the protection of staff and diners against fire.

A water-resistant pre-hung fire doorset for professional and institutional kitchens
The SP150 HYDROFEU® door fully meets these requirements since it certified EI30 fire-resistant and it is also water-repellent, impact-resistant, unaffected by cleaning products and corrosion-proof.
It is made of materials suitable for contact with food: grade 304L stainless steel for the door frame and door accessories and compact laminate facing for the leaf. The SP150 HYDROFEU® has been tested and certified by the EFECTIS test laboratory and has an EI30 fire resistance certificate for installation on plasterboard partitions and masonry.
ADVANTAGES of the SP150 HYDROFEU® water-repellent fire door

EI30 fire rating (concrete and plasterboard walls)
Water-resistant and unaffected by cleaning products
Corrosion-proof
Impact-resistant
Suitable for food preparation and food industry environments
High quality pre-hung fire doorset

Fire resistant

Water resistance

Professional kitchen

Food industry

Reinforced hygiene

Resistant to cleaning products
Technical specifications of the SP150 HYDROFEU® water-repellent fire door
Door frame

Brushed grade 304L stainless steel welded casing for fitting on a concrete wall. A stainless steel inner casing will be necessary to fit the door on a plasterboard partition or to completely encase a masonry wall,
Silicone seal in the back of the rabbet,
Neat finish – all the fastening screws are invisible.
Door leaf
Compact laminate facings for irreproachable hygiene and excellent resistance to knocks, scratches, moisture and cleaning products,
Insulating, fire-resistant core
Lock with key and stainless steel faceplate,
Grade 304L stainless steel lever handles and hinges,
Intumescent perimeter seals.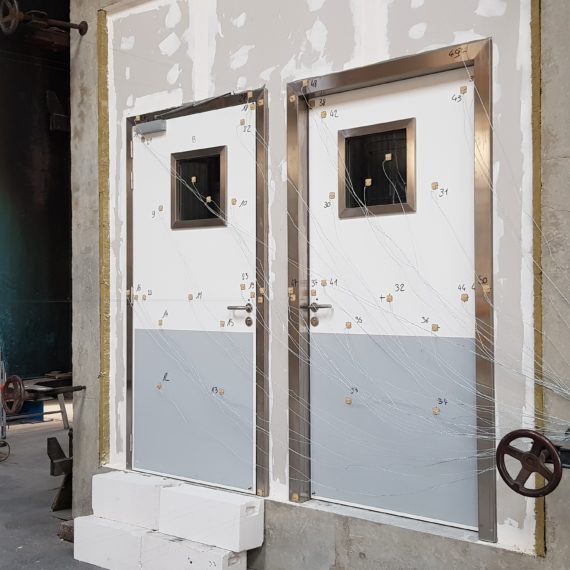 Fire resistance of SP150 HYDROFEU®
Single-leaf door: EI2-30 rating granted by the EFECTIS laboratory for a leaf up to 1260 mm wide
Direction of fire: Either
For the moment, only the single-leaf door has been tested and certified EI30 fire-resistant. The design of a double-leaf water-repellent, EI30 door is being considered for future development.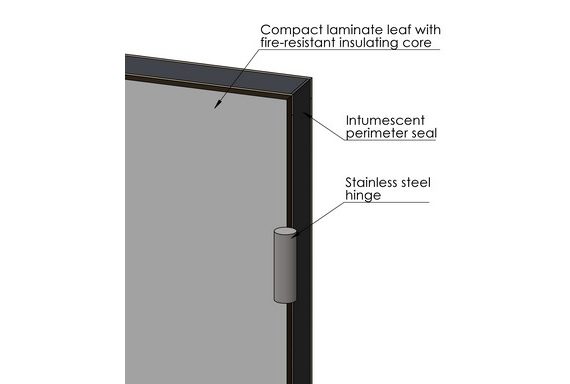 Options
Door closer with compass arm or slide arm,
Porthole/vision panel with fire-resistant glass with stainless steel glazing beads,
Acrovyn® or brushed stainless steel kick plates,
Lock with vacant/engaged indicator
Automatic drop down seal ensuring a better seal at ground level.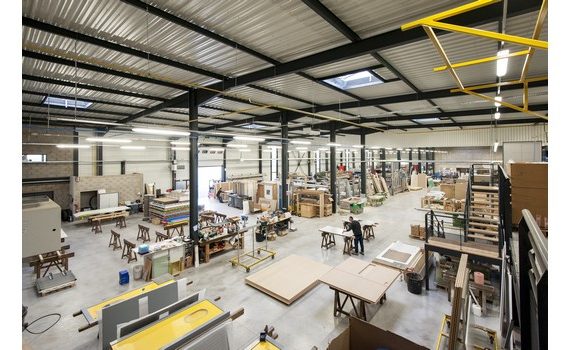 More detailed documentation including drawings, BIM files, etc. can be downloaded here.
Examples of uses of water-repellent EI30 fire doors:
Water-repellent fire-doors between the kitchen and dining area in public access buildings,
Moisture-insensitive EI30 doors for access to the bin and waste collection area,
Water-resistant fire doors separating the kitchen from a staircase in schools.