Food industry
Polyethylene double-swing door – SP800
Excellent impact resistance, resistance to water and corrosion, made from materials that comply with food standards (high density polyethylene, grade 304L or 316L stainless steel), the SP800 polyethylene double-swing door is particularly suited to food industry environments, professional kitchens and other wet and corrosive environments.

A double-swing door for food or wet environments
Made to measure, the SP800 polyethylene double-swing door is supplied ready to fit and can be installed on all types of partitions and substrates.
ADVANTAGES of the SP800 double-swing door

Can be hosed down
Extremely sturdy
Porthole/vision panel always flush on both sides for optimum, irreproachable cleaning
C-shaped door frame fixed with no visible fastening screws for an impeccable finish
Stainless steel and Delrin® double-acting hinges with a robust ALL stainless steel mechanism or ALL stainless steel hinges

Food industry

Cold resistant

Washable

Impact resistant

Food grade certified

Hygiene
Technical specifications of the SP800 polyethylene double-swing door
Different stainless steel door frames and mountings – grade 304L

U or C-shaped door frames for mounting on insulated panels or partitions, and L-shaped door frames for overlay mounting or mounting at the front edge of the reveal,
Stainless steel plates or Omega profiles for fastening on masonry, an existing frame or a solid structure
Special door frames or fixings can also be offered as options to meet particular requirements (e.g. renovation projects).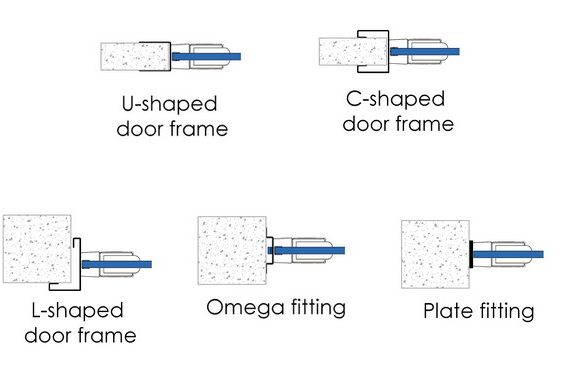 Double-acting hinges
SPENLE double-acting hinges with an all stainless steel mechanism and Delrin® body – available with or without hold open feature,
SPENLE all stainless steel double-acting hinges – available with or without 90° hold open feature – optional,
Stainless steel double-acting hinges – available only without 90° hold open feature – optional.
Double-swing door leaf
Made of food-grade high density polyethylene (HDPE 500), through-coloured, 15 mm thick
Rear reinforcement with a stainless steel U-profile,
Flexible anti-finger pinch seal, transparent, rounded edge,
PMMA porthole, 15 mm thick, flush on both sides for perfect hygiene (350 mm diameter round porthole as standard, other shapes available as an option).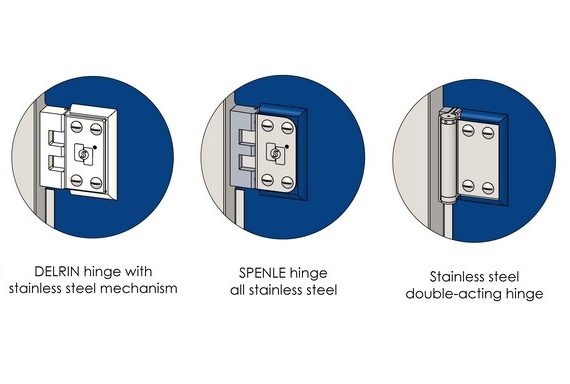 Options
Oblong vision panel, flush on both sides, 300 x 500 mm, 400 x 600 mm or 250 x 400 mm for narrow leaves,
Stainless steel or polyethylene door kick plates
Polyethylene or stainless steel kick plates with integrated door edge guards for high traffic uses,
Stainless steel push plates,
Anti-finger pinch only in the top part, above 800 mm above the ground for high traffic uses,
Grade 316L stainless steel or powder-coated 316L stainless steel door frames for the most aggressive atmospheres,
Door leaf locking,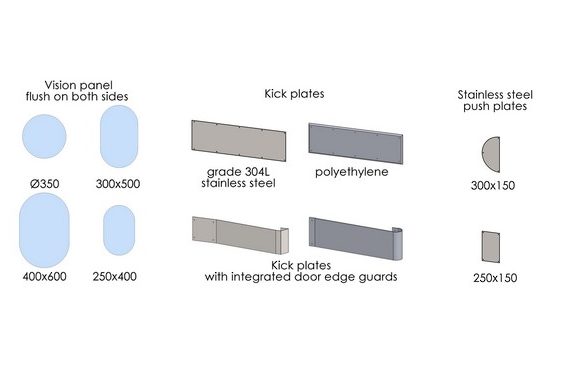 Documentation
Click and download the documents below
More detailed documentation including drawings, BIM files, etc. can be downloaded here downloaded here.
Examples of uses of polyethylene double-swing doors:

Impact-resistant double-swing doors in food factories, abattoirs, fish, dairy or cheese processing facilities, etc.
Moisture-insensitive polyethylene double-swing doors that can be hosed down in locker rooms and toilets,
Polyethylene double-swing doors in warehouses and distribution platforms.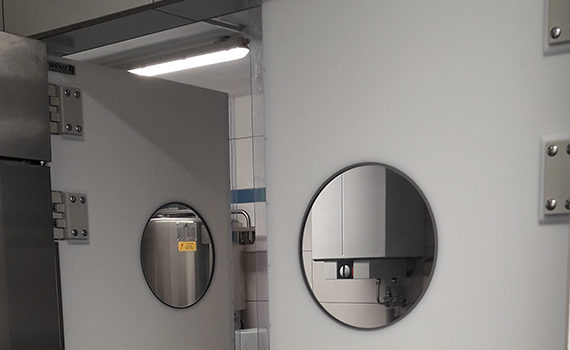 See SPENLE's other double swing doors dedicated to the food industry