Industry / Logistics
PVC strip curtain kit – L22
Would you prefer to make your own strip door on site given that the configuration is quite specific? Or would you just like to make you own strip curtain? Are you in a great hurry? Or are you looking for a slightly more economical solution?

The strip curtain kit: make your own strip curtains to fit your dimensions!
With the L22 strip curtain kit, you will be able to make your own strip curtain very easily. The kit consists of one or more ready-to-fit L22 hanging rails plus rolls of flexible PVC strip from which you will simply need to cut strips the length you need.
So you will be able to insulate your buildings, eliminate draughts, protect your equipment or partition off your workstations, all for a very modest outlay.
ADVANTAGES of the L22 strip curtain kit
An innovative, closed, sealed hanging rail, , self-supporting over a length of 3 metres
L22 hanging rail supplied ready to fit –  very easy to install very easy to install
Only one type of hanging rail whatever the type of strip and method of fastening
Rolls of flexible PVC strip of all types and for all uses (standard crystal, polar, food contact, flame-retardant, etc.)
Always available from stock for shipping within 24 hours

Cold insulation

Industry

Passage of forklifts

Economic

Recyclable

Robust product
Technical specifications of L22 strip curtain
L22 hanging rail
The L22 hanging rail designed by SPENLE allows for installation under a lintel/ceiling or flat to the wall above the opening,
The L22 hanging rail is particularly sturdy and consists of a support bar with pre-mounted studs every 50 mm and a cover that fits over the top of the strip curtain,
The L22 hanging rail is totally sealed and available in 2 mm thick galvanised steel or 1.5 mm thick grade 304L stainless steel for the most demanding food industry and other environments,
It comes in lengths of 2 m, 2.5 m or 3 m.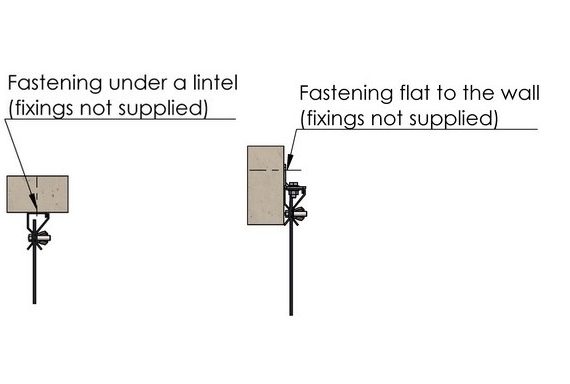 Rolls of standard crystal flexible PVC strip
Transparent flexible PVC strip, slightly blue-tinted, with rounded edges,
Temperatures of use: -15 to +50 °C (breaks at -35°C).
Special strips and technical types of PVC
Freezer grade or polar PVC strip for temperatures down to -25°C,
Coloured opaque strip – silver grey, orange or white,
Antistatic PVC strip,
Flame-retardant PVC strip, B-s3, d0 fire rating,
UV-shielding, EN 1598 fire-resistant, translucent red.
All these strips are available on 50-metre rolls – 200/2 and 300/3 crystal flexible PVC strip can also be supplied on 25-metre rolls.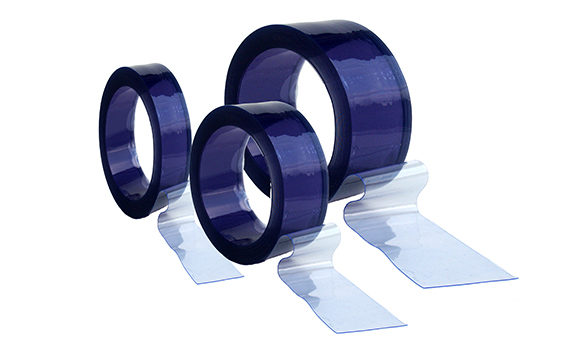 Make and install your own strip curtains, quite simply – Instructions for mounting an L22 strip curtain
Method
Cut the L22 hanging rail to the length required and fasten it flat to the wall or under the lintel
Punch and cut the strips to length
Hang the strips 1 by 1 in a staggered pattern
Fit the cover
Fasten the wing nuts to hold the assembly together (3 nuts per metre)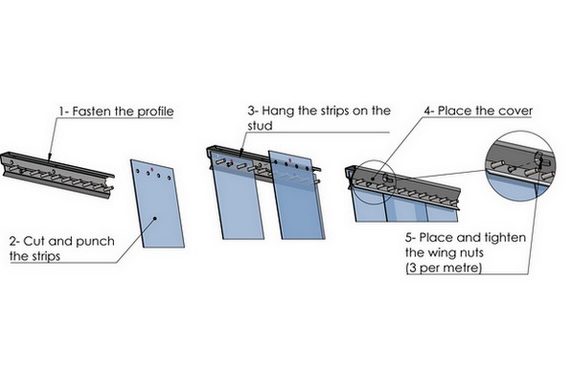 More detailed documentation including drawings, BIM files, etc. can be downloaded here.
Examples of uses of strip doors and curtains:
Strip curtain to separate 2 areas whilst leaving them easily accessible for frequent staff traffic and forklift trucks,
Strip curtain placed behind a sectional door to limit the leakage of cold air during loading/unloading,
Strip curtain protecting against dust in joinery or paint shops,
Flexible PVC strip door in a cold room or fast-freeze unit,
Flame-retardant flexible PVC strip door or curtain with a B-s3, d0 rating in public access buildings.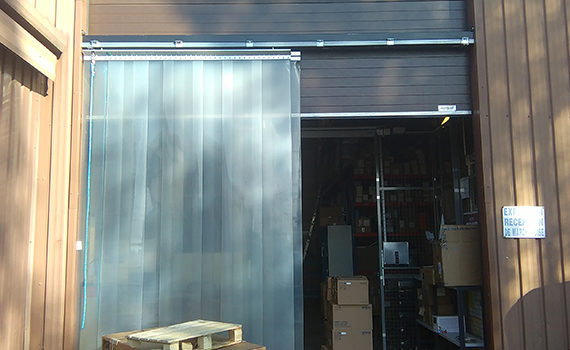 See SPENLE's other strip curtain solutions dedicated to industry and logistics