Industry / Logistics
PVC strip curtains – L22
The strip curtain or door provides a simple, efficient and highly cost-effective solution to insulate your premises. It allows you to protect your staff, products and materials from the cold or heat, draughts, dust, noise or light, and to make substantial savings on your energy bill.

The strip curtain: very effective insulation at low cost!
The L22 strip curtain is characterised by quality materials, a unique and innovative hanging system which guarantees better sealing than conventional strip curtains and even quicker fitting.
Made to measure and supplied ready to fit, the SPENLE strip curtain will meet all your expectations.
ADVANTAGES of the L22 strip curtain
An innovative, closed, sealed hanging rail, self-supporting over a length of 3 metres
Extremely simple and quick to fit
Only one type of hanging rail whatever the type of strip and method of fastening
Strips replaceable without tools and with no need to replace the hanging plates

Available in static or sliding versions

Cold insulation

Passage of forklifts

Industry

Economic

Recyclable

Robust product
Technical specifications of the L22 strip curtain
The L22 hanging rail (SPENLE innovation)
The L22 rail developed by SPENLE is a closed, completely sealed hanging rail providing better insulation and a smart, attractive finish,
The L22 hanging rail is extremely robust and consists of a support bar with integral studs. The strips are simply slotted onto these studs one after the other and a cover fastened by wing nuts placed over them to hold everything in place – Ultra-fast installation guaranteed!
It is made entirely of 2 mm thick galvanised steel, or grade 304L or even grade 316L stainless steel for the most demanding environments.
The strip curtain can be fixed flat against the wall (above the opening) of under the lintel/ceiling. It is also possible to fix L22 onto IPN beams using a clamping system).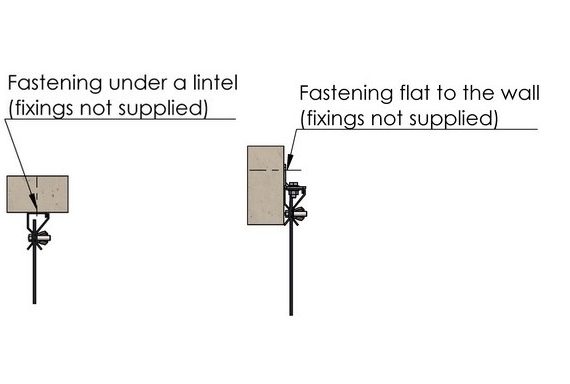 Standard flexible PVC strips
Transparent crystal flexible PVC strips with rounded edges,
Strip width: 100, 200, 300 or 400 mm with thicknesses ranging from 2 to 4 mm,
Partial or total overlapping.
Special strips and technical types of PVC
Freezer grade or polar PVC for sub-zero temperatures,
Through-coloured opaque strips – colours silver, orange or white, to secure or conceal certain areas,
Antistatic PVC strips for ATEX environments and clean rooms,
Flame-retardant PVC strips, B-s3,d0 fire rating,
UV-shielding PVC strips or EN 1598-compliant UV-shielding for welding screens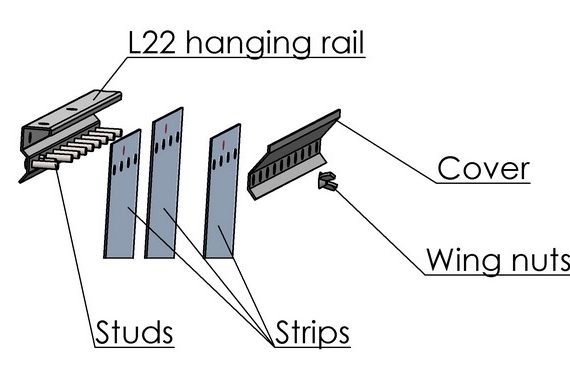 Options and variants
Sliding L22 strip curtain to allow the opening to be completely cleared
D22 unhookable hanging rails made of galvanised steel or grade 304L stainless steel
O22 "swing" type hanging rails made of galvanised steel or grade 304L stainless steel
L22C sliding strip curtain
This strip curtain slides aside to partially or completely free the opening whenever necessary. Its main characteristics are:
L22 type hanging rail mounted on a "Sportub" galvanised steel or stainless steel track with double rollers,
Operated by a pull cord,
Optional system for blocking in the open or closed position
This sliding strip curtain is available in single, double or triple sliding versions and even in a curved sliding version.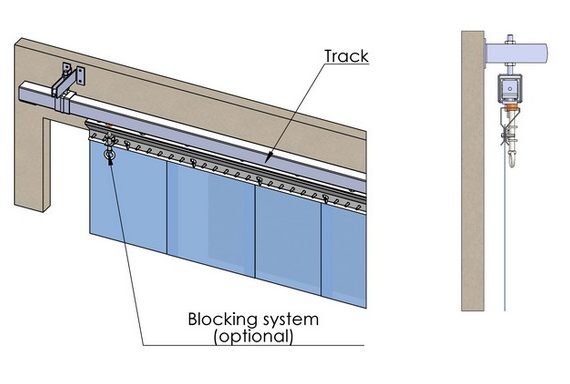 More detailed documentation including drawings, BIM files, etc. can be downloaded here.
Examples of uses of strip doors and curtains:
Strip curtains for the insulation of production sheds,
Strip curtains installed behind sectional doors and metal curtains on loading docks,
Flexible strip curtain to provide temporary and very economical insulation on construction sites,
Partitioning off of workstations,
Welding screens with UV-shielding and fire-resistant strips,
Packing booths in clean rooms with sides made of antistatic PVC strips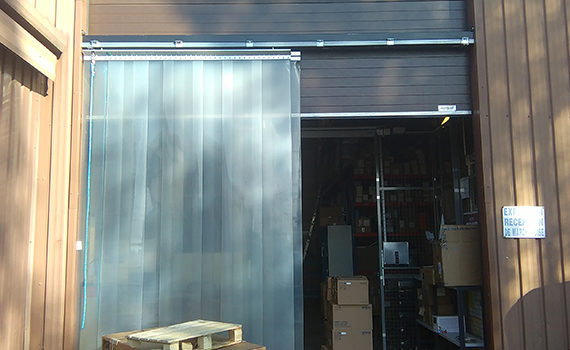 See SPENLE's other strip curtain solutions dedicated to industry and logistics