Kitchens / Restaurants
Semi-insulated service doors – SP100 – SP110 – SP120
The semi-insulated doorset comprises a lightweight insulated door, especially for the passage of people in professional and institutional kitchens. This traffic door gives access to the kitchen, different food preparation rooms, technical rooms, locker rooms and toilets.
A semi-insulated service doorset for institutional and professional kitchens.
Made to measure and supplied ready to fit, the SP100 service doorset can be installed on any type of substrate, in new build as well as renovation projects.
ADVANTAGES of the service doors in the SP100 range
Lightweight, but solid and economical
Polyurethane foam insulation – CFC-, HFC- and HCFC-free – separating 2 areas with different temperatures
Custom made to your measurements – new or renovation
Top-of-the-range service doors

Food industry

Cold insulation

Professional kitchen

Superior quality

Made to measure
Technical specifications of the SP100 semi-insulated service door
Different door frames and mountings

Grade 304L stainless steel U and C-shaped casings for fitting on insulated or plasterboard partitions, masonry walls or to cover an existing frame,
L-shaped casings for mounting at the front edge of the reveal, or T-shaped casings for inset mounting in the reveal,
Silicone seal positioned in the back of the rabbet,
Special casings or fixings can also be studied and offered as options, to meet your needs, especially on renovation projects.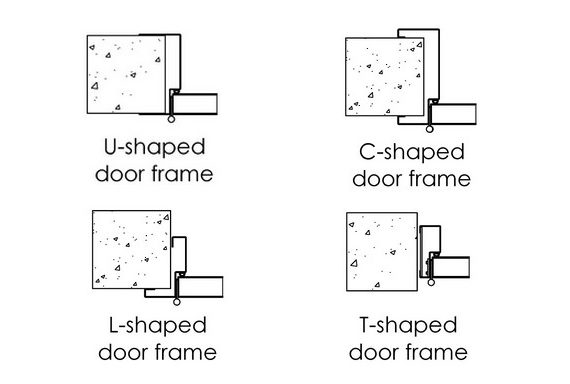 Door leaf
Facings made of pre-coated steel sheet 0.75 mm thick (SP100 model), glass fibre-reinforced polyester (SP110 model) and stainless steel (SP120 model),
Polyurethane foam core – CFC-, HFC- and HCFC-free – density 40 kg/m3,
Edged with a stainless steel profile 1.5 mm thick,
Hinges, strike and handles made of grade 304L stainless steel, lock with stainless steel faceplate.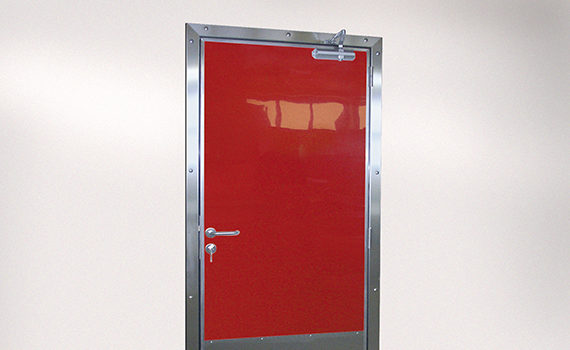 Options
Oblong vision panel 350 x 550 mm, laminated glass with grey EPDM seal,
Stainless steel or Acrovyn® kick plates,
Door closer with compass arm or slide arm,
Panic bar for doors serving as emergency exits,
Toilet door lock
All stainless steel lock,
Electromagnetic lock,
M0 rockwool insulation,
Automatic drop down seal with silicone gasket at ground level.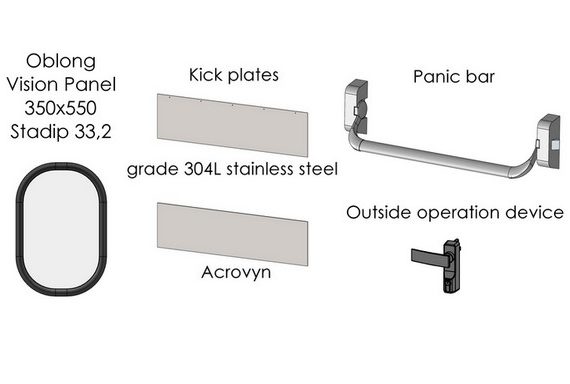 Adaptations and variants
SP100: RAL 9010 polyester pre-coated steel sheet door 0.75 mm thick – other colours possible on request
SP110: glass fibre-reinforced polyester door
SP120: brushed grade 304L stainless steel door
SP150 HYDROFEU® : compact laminate EI30 rated fire doorset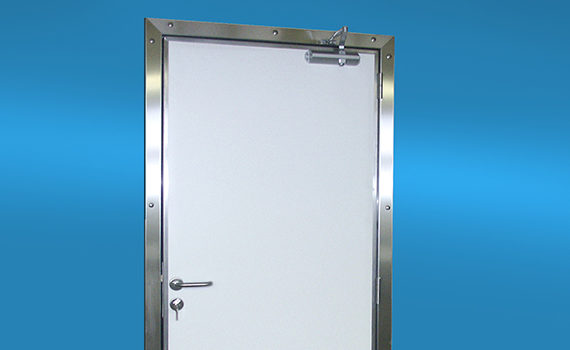 More detailed documentation including drawings, BIM files, etc. can be downloaded here.
Examples of uses of semi-insulated service doors:
Semi-insulated service doors giving access to the cold or hot preparation room in a professional kitchen,
Service doors at the entrance to locker rooms and staff toilets,
Semi-insulated doors in the circulation corridors of central kitchens.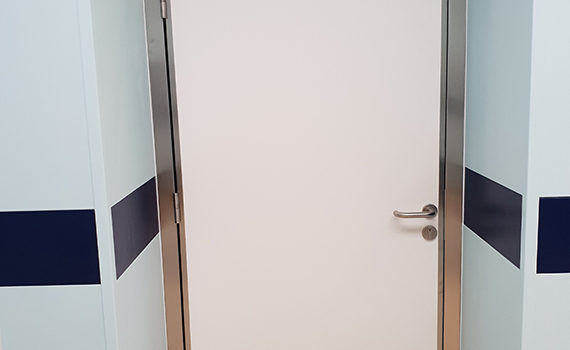 See SPENLE's other semi-insulated doors dedicated to professional kitchens and restaurants