Hospitals / Laboratories
Swing soundproof airtight door – SP250 STILLROOM®
The SP250 STILLROOM® soundproof airtight door is a hermetically sealed door whose main function is to control the risks of bacteriological or particulate contamination.

A door that is both airtight and soundproofed for operating theatres
In addition, thanks to its special design and composition, the SP250 STILLROOM® door has the advantage of also providing enhanced acoustic insulation (up to 35dB) for greater comfort in sensitive environments. It is intended for controlled medical environments such as surgical suites or clean rooms in different high tech sectors of industry.
It is intended for premises with a controlled environment such as operating theaters in the medical environment or clean rooms in various high-tech industrial sectors.
The performances of the SP250 STILLROOM® door have been tested and certified by several test laboratories, which have issued airtightness and acoustic insulation certificates.
ADVANTAGES of the SP250 STILLROOM® soundproof airtight door
High airtightness performance 
Enhanced acoustic insulation, up to 35dB
Easy to clean: porthole/vision panels flush on both sides, no visible screws, rounded shapes
Materials resistant to decontamination products.

Surgical suite/Hospital

Laboratory

Airtight

Acoustic insulation

Resistant to cleaning products

Hygiene
Technical specifications of swing soundproof airtight doors – SP250 STILLROOM®
Door frame
Grade 304L or 316L stainless steel door frame, with welded casing and inner casing adapted to the partition,
Replaceable silicone perimeter seal,
Acoustic insulation of the door frame.
Special frames and fasteners can also be studied and offered as an option to meet your specific needs.
Door leaf
Leaf made of high pressure laminate (HPL) with an antibacterial surface, protected by a brushed stainless steel frame,
Grade 304L stainless steel handles and hinges,
Automatic drop down seal with silicone gasket ensuring the door is airtight at ground level.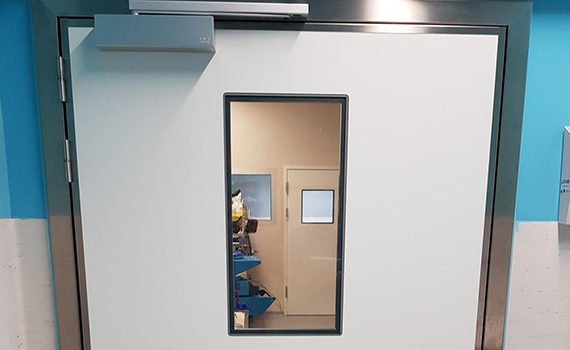 Acoustic insulation of the single-leaf SP250 STILLROOM®
Rw(C ;Ctr) = 35 (-1 ;-3)dB
For comparison, the SP250 HP was tested at Rw(C; Ctr) = 28 (-1; -2)dB
Only the single-leaf door has undergone acoustic insulation testing
Airtightness of single-leaf SP 250 STILLROOM ®
leakage < 0.43 m3/h per m2 at 20 Pa
leakage < 0.75 m3/h per m2 at 50 Pa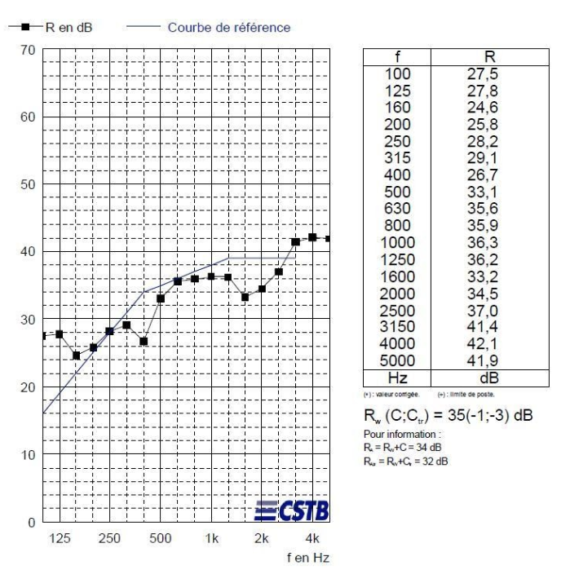 Options
Porthole/vision panel flush on both sides, with SILENCE-type laminated glass,
Vision panel with integral Venetian blind,
Acrovyn or brushed stainless steel kick plates,
Airlock interlocking: interlocking using flush-mounted electromagnetic lock,
Access control with keypad or biometric system,
Door closer,
Panic bar,
Automatic kit,
Variants and adaptations of the swing soundproof airtight door
Standard airtight version or high performance version – SP250
X-ray version with lead lined leaf, door casing and porthole – SP240X
Single-leaf EI30 fire-resistant version – SP250 AIR&FIRE STOP®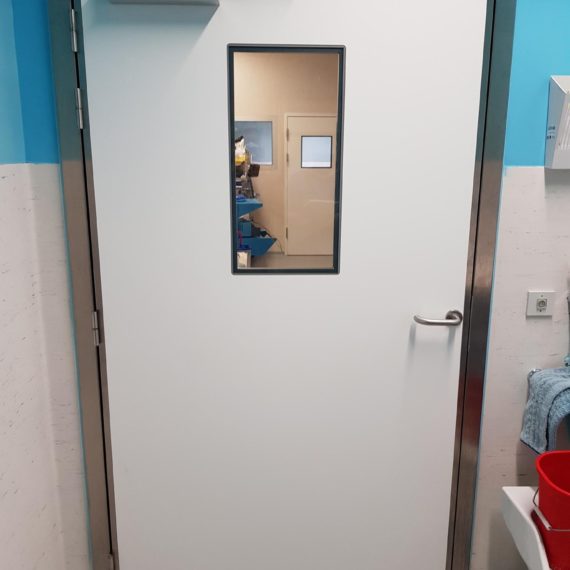 More detailed documentation including drawings, BIM files, etc. can be downloaded here.
Examples of uses of swing soundproof airtight doors:
Soundproof airtight doors in surgical suites,
Soundproof, airtight doors in operating rooms in veterinary clinics,
Airtight doors in research lab animal facilities.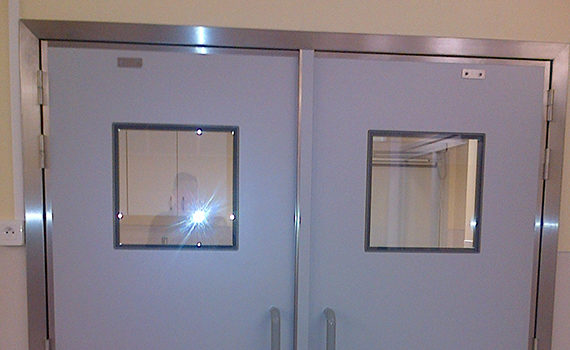 See SPENLE's other airtight and acoustic doors dedicated to hospitals and laboratories