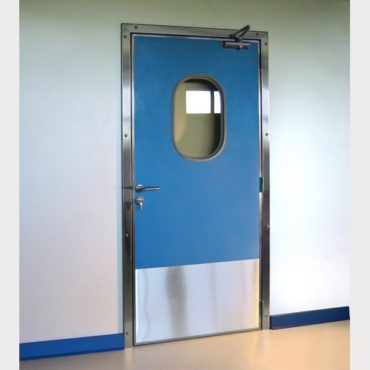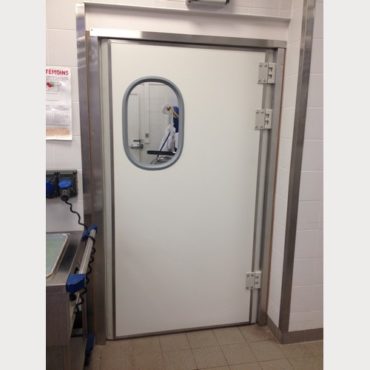 Semi-insulated doors, semi-insulated service doors, semi-insulated double-swing traffic doors
A wide range of semi-insulated service and double-swing traffic doors for professional kitchens
Semi-insulated doors are designed for use as staff traffic doors in institutional and professional kitchens. Unlike insulated doors which are highly insulating and will be used to separate two rooms with very different temperatures (above or below zero) such as cold rooms or fast-freeze units, semi-insulated doors have more moderate insulating properties, are thinner and lighter and will be installed between two rooms with similar positive temperatures.
These separating doors are just as suitable for use in corridors as at the entrance to locker rooms, toilets or technical rooms, wherever some control of temperatures is needed.
SPENLE semi-insulated doors are superior quality doors comprising a grade 304L or 316L stainless steel door frame and leaves made of coated sheet steel, polyester or entirely of stainless steel, insulated with injected polyurethane foam.
SPENLE offers two types of semi-insulated doors:
Swing service doors:
Semi-insulated double-swing doors
Pre-coated sheet steel semi-insulated doors are the most common version. However, for more corrosive environments, doors with polyester or grade 304L or 316L stainless steel leaves will be more suitable.
All these doors are supplied ready to hang and are customisable with numerous options available: RAL colours, laminated glass vision panels, panic exit devices with and without outside operation device, door closers with compass arm or slide arm, ventilation grilles, electromagnetic locks for access control, stainless steel kick plates, kick plates with integrated door edge guards for very high-traffic semi-insulated double-swing doors.
Made in France to your measurements in our factory in Sarrebourg in Eastern France.
Some applications of semi-insulated doors:
Coated sheet metal semi-insulated doors for access to cold or hot preparation areas in professional and institutional kitchens.
Polyester service doors in fish auction halls and shops,
Polyester semi-insulated double-swing doors in cheese aging rooms,
Semi-insulated service doors in butchery, cheese preparation or bakery areas in supermarkets.
Semi-insulated doors in locker rooms in abattoirs.
See SPENLE's other doors and protections intended for professional kitchens, catering and restaurants