Food industry
Polyethylene service door – SP130
The SP130 polyethylene door is without any doubt the door best suited to the food industry since it unites in a single product all the qualities required in these demanding environments.

An impact-resistant polyethylene service door that can be hosed down and will never corrode!
Consisting exclusively of polyethylene and stainless steel, it is certified food grade, is extremely resistant to knocks from trolleys and can be hosed down. The SP130 polyethylene service door also offers the great advantage of being unaffected by cleaning products and corrosion-proof, which means it can be installed in the most aggressive food industry environments such as cheese dairies, meat salteries, fish auction halls or processing plants.
Custom manufactured to your measurements, the SP130 polyethylene service door is sure to meet all your requirements.
ADVANTAGES of the SP130 polyethylene service door
Can be hosed down
Extremely sturdy
Corrosion-proof and unaffected by cleaning products
Can withstand the most corrosive environments
Perfect hygiene with hinges, faceplates and portholes/vision panels always flush mounted

Food industry

Washable

Impact resistant

Food grade certified

Hygiene

Made to measure
Technical specifications of the SP130 polyethylene service door
Different stainless steel door frames and mountings – grade 304L or 316L

U or C-shaped 304L stainless steel frames for fitting on insulated panels or masonry
L-shaped door frames for mounting at the front edge of the reveal, or T-shaped frames for inset mounting in the reveal,
Special door frames on request,
EPDM seal in the back of the rabbet ensuring the door is airtight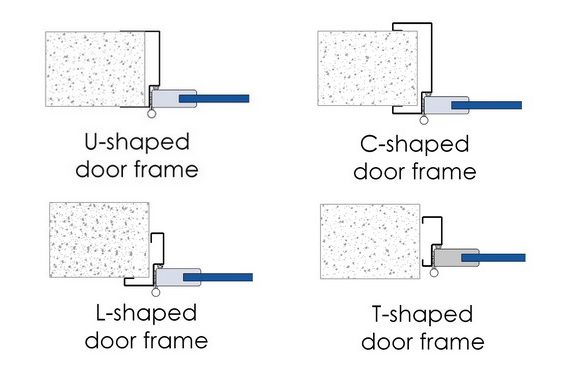 Door leaf – 35 mm thick
Central part in HDPE 500 polyethylene, 15 mm thick,
Perimeter frame in pearl grey polyethylene, 35 mm thick – 2 stiles and rail,
Stainless steel hinges, strike and lever handles, lock with flush-mounted stainless steel faceplate.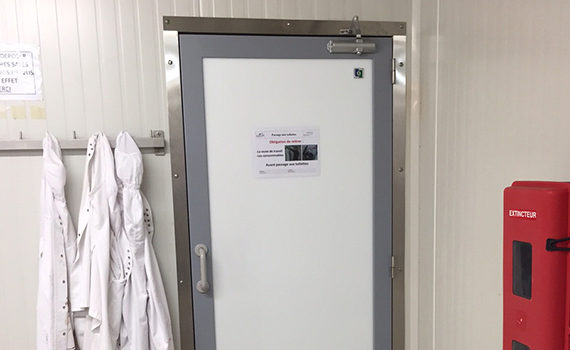 Colours
Options
Porthole/vision panel flush on both sides for optimum hygiene – round diam. 350 mm, oblong 250 x 400 mm, 300 x 500 mm or 400 x 600 mm,
Stainless steel or Acrovyn® kick plates,
Lock made entirely of grade 304L stainless steel,
Door closer,
Grade 316L stainless steel door frames for the most corrosive environments.
It should be noted that a polyethylene door leaf must never be forced; a door leaf left in the open position and subjected to the force of a door closer would warp after a short time.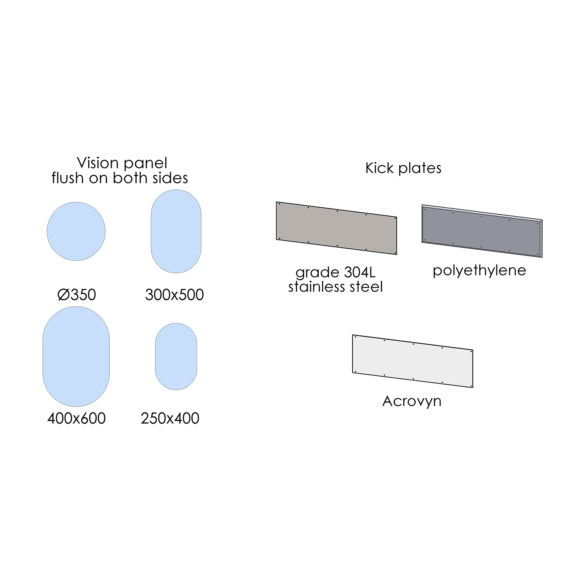 Documentation
Click and download the documents below
More detailed documentation including drawings, BIM files, etc. can be downloaded here.
Examples of uses of waterproof, corrosion-proof polyethylene doors:

Polyethylene service doorsets in food industry kitchens.
Water-resistant, corrosion-proof, polyethylene service doors in highly corrosive environments such as cheese dairies, fish processing plants and meat salteries.
Polyethylene doors in locker rooms and toilets in food factories.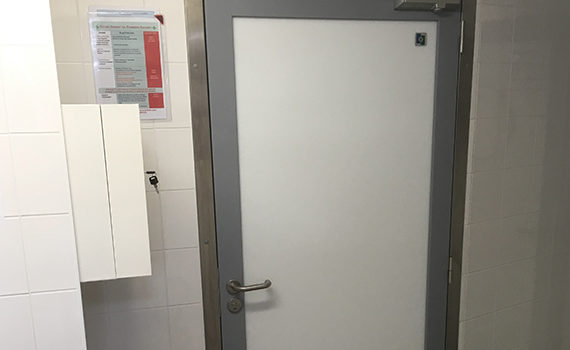 See SPENLE's other service doors dedicated to the food industry