Hospitals / Laboratories
Swing lead lined X-ray doors – SP240X
The SP240X swing X-ray door was developed to protect staff and patients from the X-rays used in medical imaging. Lead sheets of varying thicknesses are inserted into the door to block the X-rays.

A lead lined pre-hung X-ray doorset for radiography rooms
The SP240X swing X-ray door is a high-end door made of superior quality materials. It is essentially designed for use in hospitals, clinics, CT scan rooms and the nuclear industry..
It is delivered finished, ready to install and to your measurements.
ADVANTAGES of the SP240X swing X-ray door
Lead shielding 1 to 4 mm thick

A high-end door with an aluminium or stainless steel casing and a leaf made of antimicrobial HPL, coated aluminium or stainless steel, with a porthole/vision panel flush on both sides for optimum cleaning
Resistant to decontamination products.
Manual and automatic versions

X-ray/Radiology

Hospital

Superior quality

Resists cleaning products

Hygiene

Nuclear industry
Technical specifications of the lead lined pre-hung X-ray doorset – SP240X
Door frame
Aluminium door frame – casing and inner casing made of aluminium profile with rounded edges and a 15µ natural anodised or powder-coated finish,
Grade 304L or 316L stainless steel door frame – welded casing and inner casing adapted to the partition,
Insertion of a lead sheet for radiation protection,
Silicone perimeter seal in the back of the rabbet.
Special door frames or fixings can also be studied and offered as options, especially for your renovation needs.
Door leaf
Made of HPL with an antibacterial surface, Acrovyn®, pre-coated steel sheet (25µ or 55µ PET), powder-coated aluminium sheet or grade 304L or 316L stainless steel,
,
Protected by a frame with rounded edges made of aluminium or brushed stainless steel
Lead shielding 1 to 4 mm thick, consisting of a lead sheet placed in the core of the door leaf
Leaded strip providing continuity of X-ray protection on double-leaf doors,
Grade 304L stainless steel handles and hinges,
Lock with stainless steel faceplate and stainless steel lever handles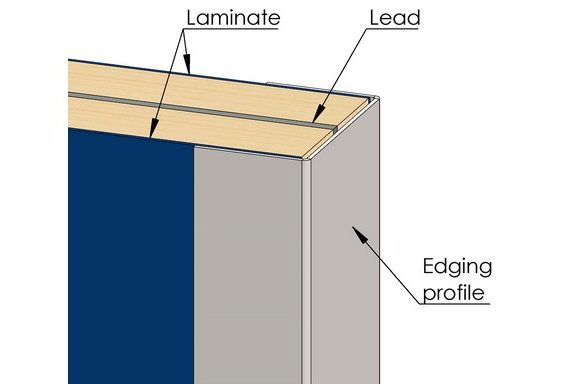 Options
X-ray glass porthole/vision panel flush on both sides,
Vision panel with integral Venetian blind,
Brushed stainless steel or Acrovyn® kick plates,
Airlock interlocking: interlocking using flush-mounted electromagnetic lock,
Access control with keypad or biometric system,
Door closer,
Panic bar,
Automatic kit for motorised opening/closing.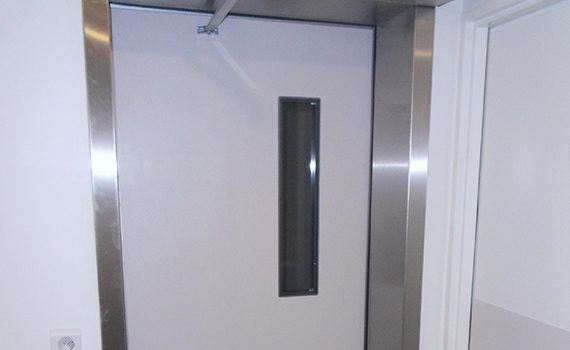 More detailed documentation including drawings, BIM files, etc. can be downloaded here.
Examples of uses of swing X-ray doors:

X-ray doors for radiology centres,
X-ray doors for panoramic radiography rooms in dental surgeries,
Pre-hung X-ray doorsets to access CT scan rooms.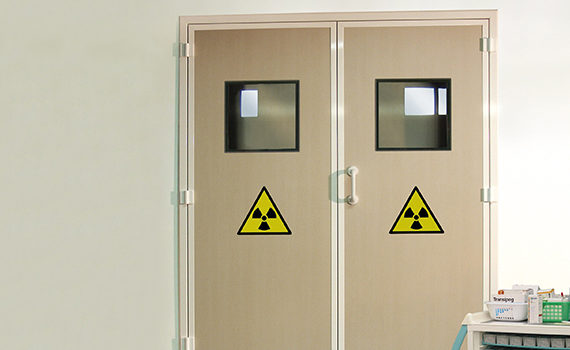 See SPENLE's other X-ray doors dedicated to hospitals and laboratories