Hospitals / Laboratories
Swing airtight fire doors – SP250 AIR&FIRE STOP®
The SP250 AIR&FIRE STOP® airtight door has been designed to meet two different needs: to provide enhanced airtightness to protect clean and sterile rooms, and to prevent the spread of fire to protect personnel.

An airtight and fire-resistant door for operating theatres and controlled environment rooms
Consisting of a grade 304L stainless steel door frame and an impact and decontamination product-resistant compact laminate leaf, it is used in surgical suites, clean rooms, research laboratories and other controlled atmosphere rooms.
The leakage rates and fire resistance of SP250 AIR&FIRE STOP® doors have been tested and certified by different test laboratories and they have been issued with an airtightness certificate and EI30 fire resistance certificate for installation in plasterboard (Placo®) partitions and masonry walls.
ADVANTAGES of the SP250 AIR&FIRE STOP® airtight door
EI30 fire-resistant (masonry and plasterboard partitions)

Enhanced airtightness for controlled environment areas – hospitals, laboratories, clean rooms
Optimum hygiene with cleaning product-resistant materials and a high-grade finish
Top-of-the-range fire door

Airtight

Fire resistant

Laboratory

Resistant to cleaning products

Optimum hygiene

Hospital / Operating room
Technical specifications of SP250 AIR&FIRE STOP® swing airtight fire doors
Door frame
Grade 304L stainless steel door frame – welded casing for fitting in concrete walls and adapted inner casing for plasterboard partitions,
Fastenings with no visible screws,
Silicone perimeter seal.
Door leaf
Compact laminate leaf for optimum hygiene and excellent resistance to knocks and decontamination products,
Fire-resistant insulating core,
Intumescent perimeter seals
Lock with grade 304L stainless steel faceplate,
Grade 304L stainless steel handles and hinges,
Automatic drop down seal with silicone gasket ensuring the door is airtight at ground level.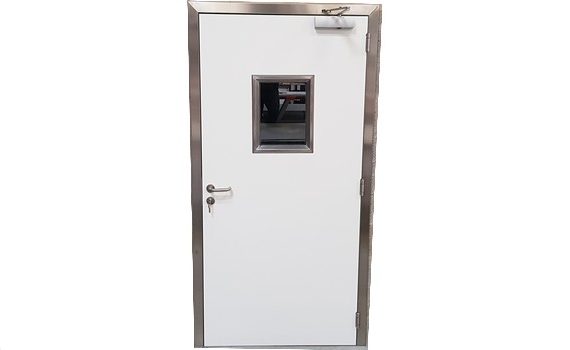 Airtightness of SP250 AIR&FIRE STOP®
Single-leaf door: leakage < 2.21 m3/h per m2 at 20 Pa and < 3.78 m3/h per m2 at 50 Pa
Fire resistance of SP250 AIR&FIRE STOP®

Single-leaf door: EI2-30 certification issued by the EFECTIS laboratory for a door up to 1260 mm wide
Direction of fire: Either
Only the single-leaf has been tested and certified (airtightness and EI30 certificate) for the moment. Studies are underway with a view to the development of a double-leaf airtight EI30 door in the near future.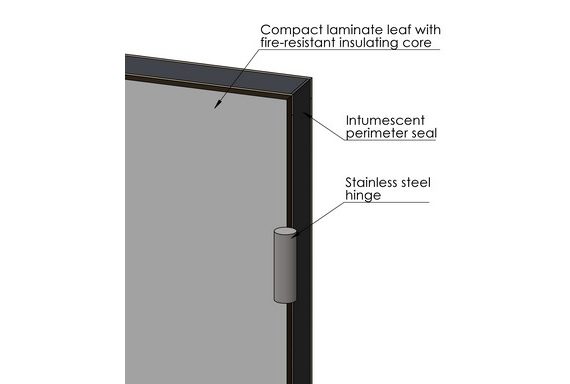 Options
Porthole/vision panel with fire-resistant glass and welded stainless steel glazing beads,
Brushed stainless steel or Acrovyn® kick plates,
Door closer with compass arm or slide arm.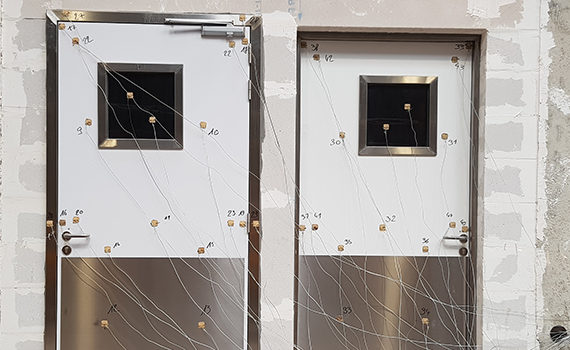 More detailed documentation including drawings, BIM files, etc. can be downloaded here
Examples of uses of airtight EI30 fire doors:

Airtight EI30 fire doors as access doors to surgical suites,
Hermetically sealed fire doors in pharmaceutical laboratories,
Airtight EI30 doors in containment zones and clean rooms.