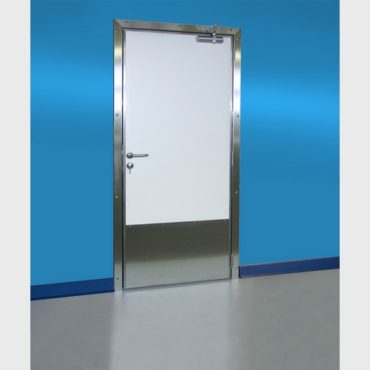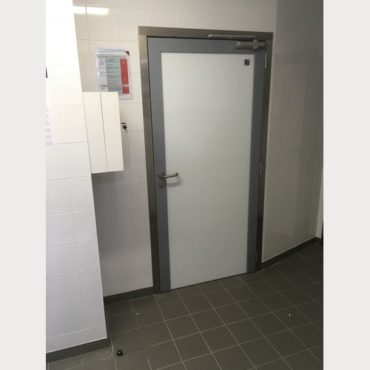 Food industry service doors, semi-insulated doors, semi-insulated swing doors
A range of divider doors for food industry buildings
SPENLE's service doors have been developed to enable the passage of staff in food production premises and food industry laboratories: offices, technical rooms, locker rooms or toilets.
Lightweight but sturdy, these doors are made from materials such as grade 304L or 316L stainless steel, polyester, polyethylene or coated sheet steel, and offer a solution suitable for different uses and hygiene conditions, in environments with strict requirements.
SPENLE offers a varied range of service doors:
The first three of these are semi-insulated, injected with polyurethane foam or with a rockwool core to provide thermal insulation. As for the last of the four, the SP130, this is a solid door made of food-grade polyethylene with extremely good resistance to impacts, cleaning products, corrosion and fatty acids as well as being totally impermeable to water.
The choice of model and the materials used in the service door will be highly dependent on certain requirements:
temperature conditions – on air-conditioned premises a so-called semi-insulated service door whose leaves are filled with polyurethane foam or rockwool will be the preferred option,
degree of resistance to the corrosive atmospheres that are found in fish auction halls and shops, meat curing chambers and cheese dairies – in this type of environment, stainless steel, polyester or polyethylene doors will be preferred, and doors with pre-coated sheet steel facings will be avoided,
impact resistance – for a door intended for a very humid or corrosive atmosphere, and which is subject to repeated knocks from trolleys, a polyethylene food industry-type pre-hung doorset will probably be the best choice.
Some applications of service doors:
Doors of staff locker rooms or toilets in food processing plants,
Food industry-type divider pre-hung doorsets in cooked meat preparation rooms,
Polyester semi-insulated doors in a cheese dairy or fish shop,
Swing service doors for supermarket meat and food preparation rooms,
Food industry-type doors made of polyethylene for professional kitchens (company and school canteens, hospitals, care homes, etc.)
Control room doors in food packing plants.
See SPENLE's other door and protections intended for the food industry