Food industry
PVC strip curtains – L22
The strip curtain is an effective product for insulating rooms in the food industry, cold rooms or food warehouses. It has the advantage of being able to hold in the cold, or heat, whilst allowing relatively easy access.

The strip curtain: a very effective and economical form of insulation!
The L22 strip curtain consists of an exclusive and ingenious hanging rail: covered and closed, it guarantees easy cleaning and better hygiene.
It may comprise transparent crystal flexible PVC strips, or polar PVC strips for the negative temperatures in freezing chambers or even strips certified food safe when direct contact is possible between the strip and the foodstuff.
All SPENLE strip curtains are custom made to your measurements and supplied in the shortest of lead times.
ADVANTAGES of the L22 strip curtain
An innovative closed rail, , easy to clean for better hygiene
Several types of strips suitable for all food environments: crystal, Freezer grade (negative temperatures) or certified food safe
Easy and quick to install
Strips can be replaced with no tools
Available in static or sliding versions

Food industry

Cold insulation

Freezing

Passage of forklifts

Economic

Recyclable
Technical specifications of L22 strip curtain
The L22 hanging rail (SPENLE innovation)
The L22 rail developed by SPENLE is a hanging rail that is particularly suited to the food industry and its hygiene requirements: closed, covered, it is sealed and easily cleaned for better hygiene,,
The rail is extremely sturdy and consists of a support bar and studs, on the one hand, and the cover, on the other. The pre-cut and punched strips are positioned one by one on the studs, then covered by the cover, the assembly being held together by wing nuts. It is a particularly effective system and one that guarantees ultra-fast installation.
The rail is available in galvanised steel 2 mm thick, in grade 304L or even 316L stainless steel for the most demanding and corrosive environments.
The strip curtain is designed for overlay mounting (on the wall above the opening) or it can be installed under the lintel/ceiling.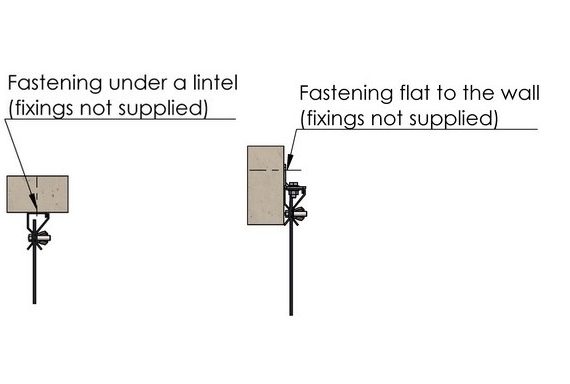 Flexible PVC strips
Flexible PVC strips with rounded edges and partial or total overlap. Depending on the type of PVC used, the strips can be 100, 200, 300 or 400 mm wide with thicknesses ranging from 2 to 4 mm.
In the food industry and refrigerated settings, the most common strips are mainly:
Transparent crystal flexible PVC strips, which are slightly blue-tinted,
Extreme cold or polar PVC strips exclusively for sub-zero temperatures (transparent, very slightly blue-tinted),
Food contact flexible PVC strips (transparent, slightly blue-tinted),
There are also other types of special or technical strips (e.g.: flame-retardant, opaque, antistatic PVC, etc.), which are listed in the table below.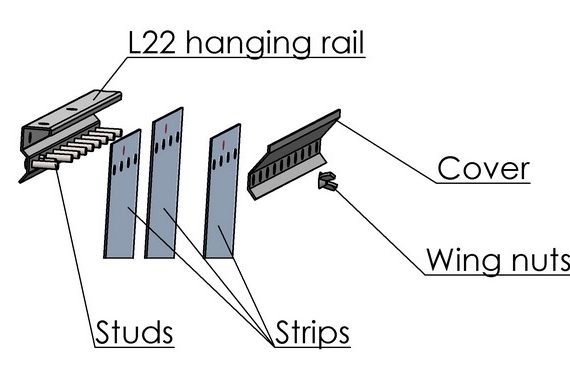 Variants and adaptations
Sliding L22 strip curtain curtain to allow the opening to be completely or partially cleared. It consists of an L22 fastening rail mounted on a galvanised steel or stainless steel "Sportub" track, operated with a pull cord system (with an optional system to block the curtain in the open or closed position),
D22 unhookable hanging rail – galvanised steel or grade 304L stainless steel – with strips mounted between plates and counterplates,
O22 swing-type hanging rail – particularly suited to very low openings – the swinging strips are fastened onto a galvanised steel or grade 304L stainless steel tube with polyethylene grips.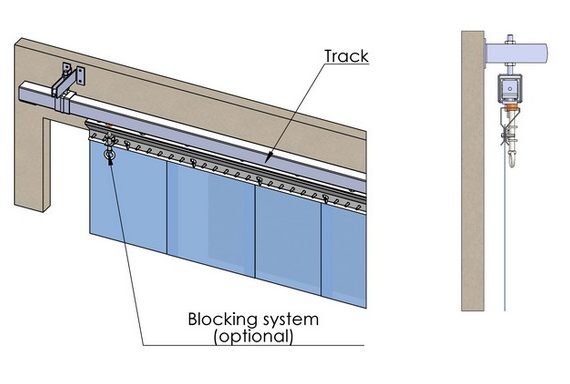 More detailed documentation including drawings, BIM files, etc. can be downloaded here.
Examples of uses of strip doors and curtains in the food industry:

Strip curtains for the insulation of cutting rooms,
Strip door separating the food processing hall from the storage area,
Freezer grade PVC strip curtains installed as extra insulation behind insulated doors in frozen storage rooms,
Strip curtains installed on unloading docks in chilled food warehouses,
PVC strip curtains on refrigerated vehicles,
Strip curtain in the entrance to restaurants.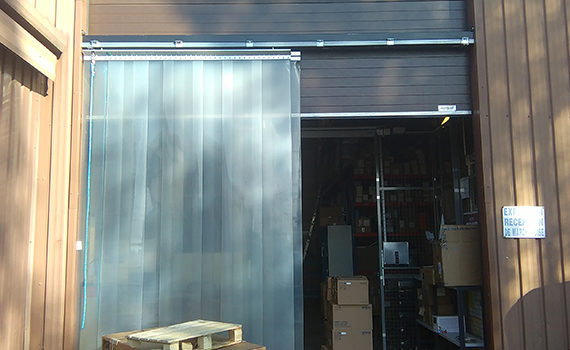 See SPENLE's other strip curtain solutions dedicated to the food industry