Industry / Logistics
Flexible PVC swing door – SP2000
The SP2000 flexible leaf door or flexible swing door is a simple, effective and very economical double-acting door that can improve the heat and sound insulation of your premises.

The flexible PVC swing door: a door designed to last!
With its extremely sturdy metal structure and an integrated return system protected against knocks, failure and maintenance-free, the SP2000 flexible swing door offers a very economical alternative to flexible high-speed doors in dimensions up to 8 m x 8 m.
Made to measure and supplied ready to fit, it is available in a manual and an automatic version, single or double-leaf, to meet all your requirements.
ADVANTAGES of the SP2000 flexible PVC swing door
Much cheaper to buy and maintain than a high-speed door, given that it requires no maintenance or even periodic checking.
Failure-free: the flexible PVC swing door will never stop working and leave staff and goods stranded on one side
Allows you to keep heat loss or cold air leakage to a minimum since the opening of the door is always limited to the size of the person or vehicle going through it and the leaves close automatically immediately afterwards
Double-acting operation thanks to a return system integrated and protected inside the door structure
Allows the passage of suspension rails and overhead cranes

Superior quality

Robust product

Industrial

Passage of forklifts

Economic

Recyclable
Technical specifications of the SP2000 flexible PVC swing door
Structure of flexible PVC swing doors
Heavy duty coated steel structure,
Adjustable return system with torsion spring integrated into the frame, and protected from knocks,
Rotates on a height-adjustable pivot,
Anti-drop device on large doors,
90° hold open feature system available as an option.
Opening simply by pushing and automatic closing by an adjustable tension system.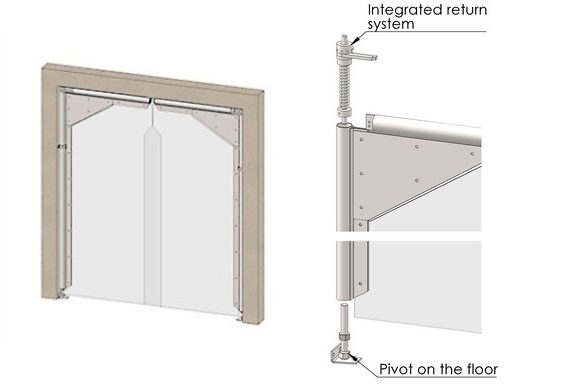 Flexible PVC panels
Flexible PVC panels, overlapping in the centre for double-leaf doors,
6 or 8 mm thick,
Transparent crystal flexible PVC with possibility of having opaque flexible PVC impact sections at the top and/or bottom.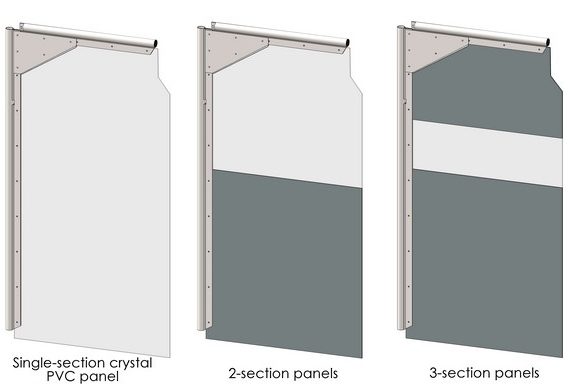 Colours of opaque flexible PVC
Replacement flexible panels are available from our Industry and Logistics spare parts section
Options
90° hold open feature system,
Single-acting operation – the leaves will open in one direction only,
Brushed all grade 304L stainless steel version (structure, return mechanism, pivots, etc.) for aggressive or food industry environments,
Automatic version with electro-pneumatic mechanism.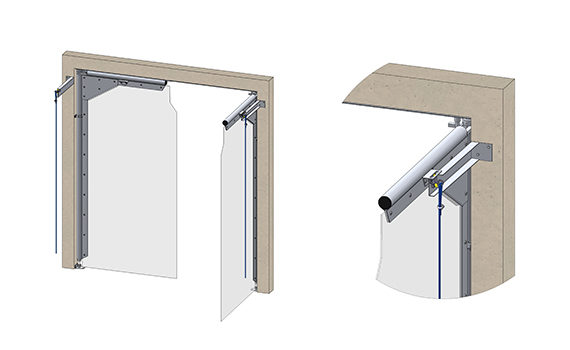 More detailed documentation including drawings, BIM files, etc. can be downloaded here.
Examples of uses of flexible swing doors:
Flexible PVC swing door providing interior insulation in logistics warehouses
Flexible PVC swing door for openings with tracks passing through,
Flexible PVC swing door used in professional paint booths for railway rolling stock,
Flexible swing door separating a shop from its stores.