Kitchens / Restaurants
Polyethylene swing doors – SP130
Robust, effective and very stylish!

A food-grade, moisture-insensitive polyethylene doorset for central and professional kitchens
Food-safe and totally water-repellent, non-corrosive and much appreciated for its impact resistance, the SP130 polyethylene pre-hung service doorset has become a must in professional restaurant and institutional kitchens and all premises with high level of humidity such as laundry rooms and laundries.
Its sophisticated design, modern look and smart finish mean that it is also very much at home in public amenities such as aquatic centres and sports centre locker rooms.
Made to measure and supplied ready to fit, the SP130 polyethylene service door can be installed just as well in new build as in renovation projects.
ADVANTAGES of the SP130 polyethylene pre-hung doorset
Water-resistant and totally water-repellent
Ultra-impact-resistant
Made of materials that are certified food grade (HDPE 500 and stainless steel)
Suitable for installation new build and renovation projects
Very sophisticated design for optimum hygiene

Food industry

Washable

Professional kitchen

Impact resistant

Food grade certified

Hygiene
Technical specifications of the SP130 water-repellent door
Different stainless steel door frames and mountings
U or C-shaped casing for fitting on panels, plasterboard partitions or to cover an existing casing,
L-shaped casing for overlay mounting or for mounting at the front edge of the reveal, or T-shaped casing for inset mounting in the reveal,
Perimeter seal ensuring the doorset is watertight.
Special door frames or fixings can also be studied and offered as options, especially for your renovation needs.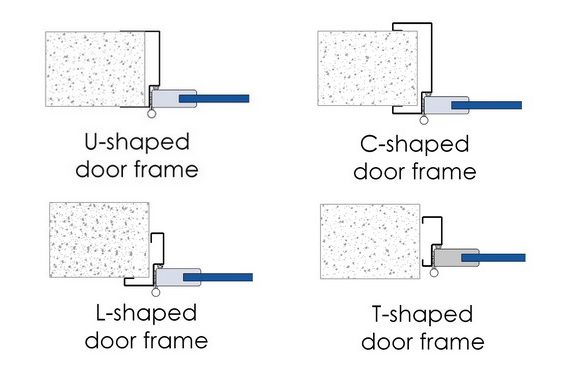 Water-repellent doorset leaf, 35 mm thick
Made of food-grade high density polyethylene (HDPE 500), through-coloured, 15 mm thick,
Pearl grey polyethylene external reinforcement, 35 mm thick on 3 sides,
Hinges and handles made of grade 304L stainless steel, lock with flush-mounted stainless steel faceplate.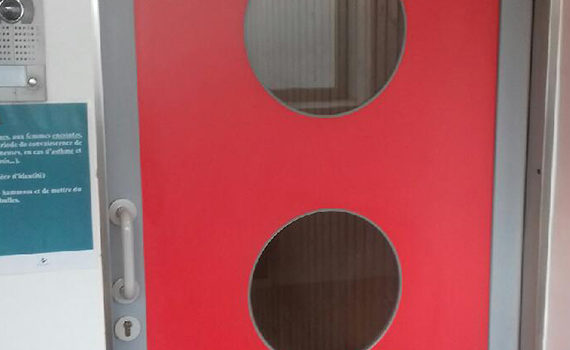 Options
Plexiglas porthole flush on both sides flush on both sides – round diam. 350 mm, oval 250 x 400 mm, 300 x 500 mm or 400 x 600 mm,
Stainless steel or Acrovyn® door kick plates
Panic bar with or without outside operation device
Lock with vacant/engaged indicator
Lock made entirely of grade 304L stainless steel,
Door closer with compass arm or slide arm.
Automatic drop down seal ensuring the door is watertight at ground level.
Grade 316L stainless steel or powder-coated 316L stainless steel door frames for the most aggressive atmospheres,
It should be noted that a polyethylene door must never be forced in any way; a door leaf blocked in the open position and subjected to the force of a door closer would gradually bend.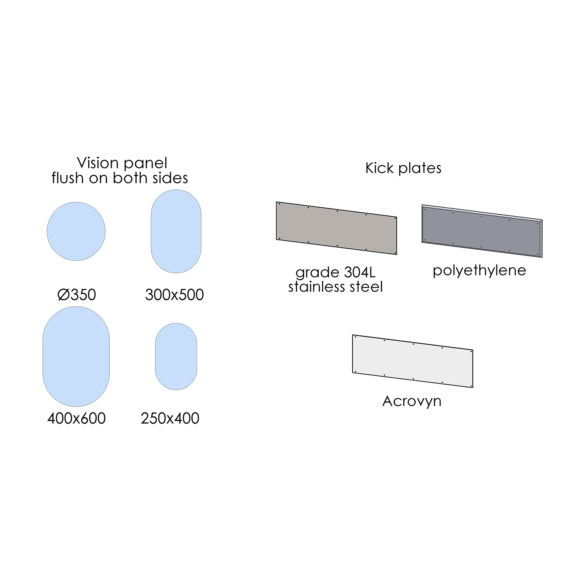 Documentation
Click and download the documents below
More detailed documentation including drawings, BIM files, etc. can be downloaded here.
Examples of polyethylene water-repellent doors:
Water-repellent doors in restaurant kitchens and institutional kitchens (high schools, care homes, hospitals, crèches),
Water-resistant polyethylene service door in the dishwashing room in restaurants
Polyethylene doorset in the locker rooms and toilets of kitchens and sports halls.
Door for wet environments such as laundry rooms and laundries,
Polyethylene water-repellent doors for aquatic and spa centres.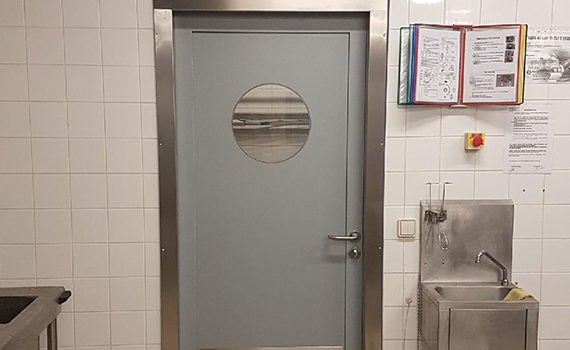 See SPENLE's other water-repellent doors dedicated to professional kitchens and restaurants