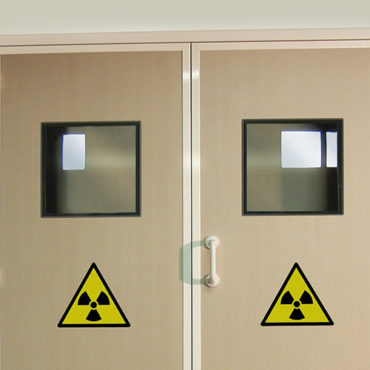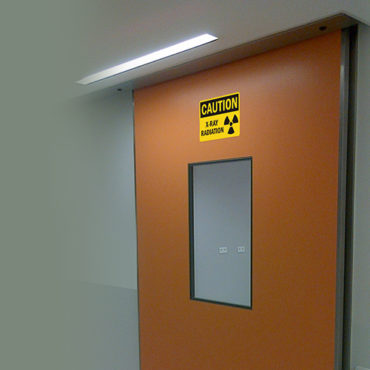 Lead lined X-ray doors for radiology and scanner rooms
Protection of people against X-rays
SPENLE lead lined doors are designed to guarantee the safety of patients and medical staff by shielding them from the X-rays used in radiology.
It is the inclusion of lead sheet in the leaves and frame that enables the door to act as a barrier against X-rays. The thickness of this sheet will vary according to the type and configuration of radiological equipment. Generally it is determined by very complex calculations performed by specialised radiation protection design offices.
The portholes and vision panels included in lead lined doors are also of a very specific design. They contain glass with a high percentage of lead oxide whose lead equivalence will be determined by the thickness of the glazing.
X-ray glass tends to have a slight yellow tint, but is nevertheless entirely transparent.
A lead lined door only provides effective protection against X-rays and meets the standards in force if there is continuity of the radiation shielding over the entire door, from one end of the lead lined partition to the other: the door frame, the leaf (or 2 leaves, as the case may be) and the porthole or vision panel, if there is one.
Reliable and robustly designed to support leaves that can be very heavy, SPENLE X-ray doors are top-of-the-range lead lined doors intended for use in the most demanding environments such as surgical suite, with aluminium or stainless steel frames, leaves made of laminate board with an antibacterial coating, compact laminate board, stainless steel or powder-coated aluminium.
SPENLE produces doors with lead sheet 1 to 4 mm thick in swing and sliding versions, with 1 or 2 leaves. The doors are available in two versions: X-ray doors or airtight, X-ray doors:
swing X-ray doors – SP240X
sliding X-ray doors – SP440X
swing airtight, X-ray doors – SP250X
sliding airtight, X-ray doors – SP450X
SPENLE is one of only a few manufacturers of lead lined doors capable of integrating a lead glass porthole or vision panel that is perfectly flush on both sides of the door, and with no glazing bead, for optimum hygiene.
Some examples of applications of lead lined X-ray doors:
Airtight, X-ray doors for surgical suites,
X-ray door to a scanner room.
See SPENLE's other doors for hospitals, laboratories and clean rooms