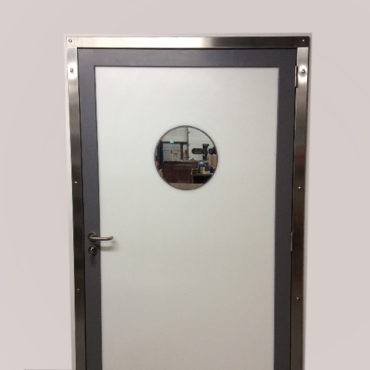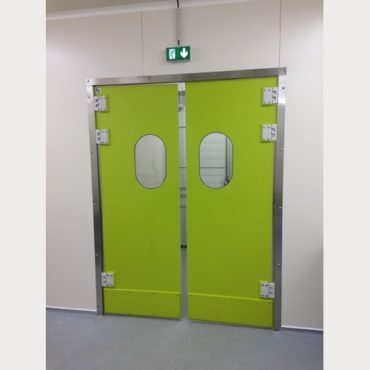 Food-grade water-repellent and water-resistant doors
The professional kitchen door par excellence
The development of materials like polyethylene has completely revolutionised food industry work areas and professional and institutional kitchens over the last few years. Thanks to its particular properties (food grade, unbreakable, resistant to water and fatty acids, non-porous material, etc.), polyethylene is fast becoming a standard feature in kitchens, almost as much as stainless steel already is. It is used to make butcher's blocks and professional chopping boards, kitchen utensils, wall protection systems and even water-repellent doors that can be hosed down.
SPENLE manufactures several types of water-repellent doors for restaurants and institutional kitchens:
polyethylene swing doors – SP130
polyethylene double-swing doors – SP800
polyethylene sliding doors – SP800C
With a stainless steel door frame and a leaf made of solid polyethylene, these doors are not only water-repellent, suitable for hosing down, rot-proof and extremely resistant to impacts and fatty acids, but also certified food grade. These are clearly the best type of traffic doors for all professional and institutional kitchens when there is no requirement for thermal insulation or fire doors.
Through-coloured polyethylene makes it possible to offer doors in different colours with the same accessories and options as on most other doors (stainless steel handles, locks with stainless steel faceplates, stainless steel hinges, portholes and vision panels flush on both sides of the door for optimum hygiene, kick plates, push plates, door closers, panic exit devices, ventilation grilles, wiper seals, etc).
Some examples of applications of polyethylene water-repellent doors
Polyethylene service doors separating different rooms in school canteen kitchens,
Polyethylene double-swing doors leading to the dishwashing room in professional kitchens,
Polyethylene water-repellent pre-hung doorsets for locker rooms and toilets in central kitchens,
Polyethylene sliding doors leading to the storeroom in professional kitchens,
See SPENLE's other doors and protections intended for professional kitchens, catering and restaurants