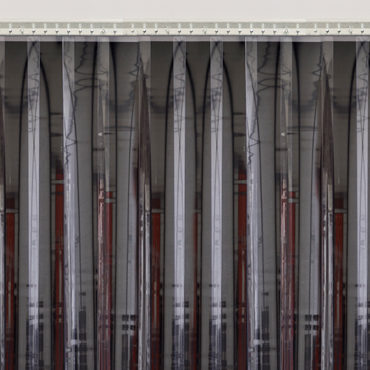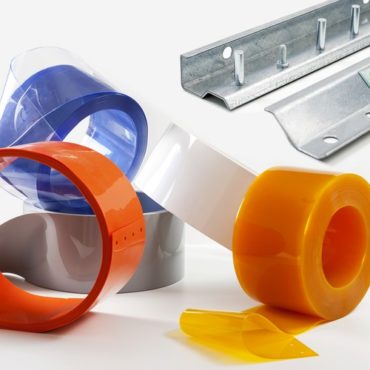 PVC strip curtains and flexible PVC strip doors – fixed or sliding
A comprehensive range of flexible curtains for the food industry
SPENLE is one of France's leading manufacturers of PVC strip curtains and doors.
Consisting of strips of flexible PVC attached to a fixed or sliding hanging rail, PVC strip curtains area mainly used to insulate against heat and keep in the cold in all sectors of the food industry. These PVC strip curtains offer many advantages which make them an essential feature in the agrifood industry:
Very economical, easy to install and zero maintenance costs,
Particularly practical, they allow easy passage of pedestrians, forklifts and handling equipment,
Extremely effective and durable with genuine thermal insulation properties,
The PVC strips can be entirely transparent to ensure safe passage or coloured (opaque or translucent) to conceal a storage area, for example, or to protect foodstuffs from the light,
These PVC strips have specific properties that are very useful in the food industry:

Extreme Cold or Polar PVC resistant to sub-zero temperatures for freezing chambers,
Food Contact PVC allowing for direct contact between foodstuffs and the strips,
Insect-repellent PVC very effective in food factories and warehouses in hot, humid countries.
PVC strip curtains can be static, sliding or one half static/one half sliding,
Hanging rails are available in galvanised steel, grade 304L or 316L stainless steel or polyethylene so as to offer solutions compatible with all types of environment.
SPENLE has been manufacturing PVC strip curtains and doors for over 40 years and is widely recognised for the quality and competitiveness of its products and for its L22 closed, sealed rail, which is particularly well suited to the kind of humid and demanding environments common in the food industry.
SPENLE offers a wide range of PVC strip curtains and doors:
Static strip doors or curtains,
Half-static/half-sliding strip doors,
Sliding strip doors or curtains,
with crystal clear transparent, opaque, translucent, polar or extreme cold, insect-repellent, fire-retardant or even antistatic PVC strips!
Some examples of applications of PVC strip doors and curtains:
Transparent flexible strip curtains that compartmentalise meat zones and partition them off from circulation corridors,
Strip curtains for the insulation of chiller cold rooms,
Insect-repellent  PVC strip doors in fruit processing plants,
Extreme cold PVC strip curtains installed behind insulated doors to keep in the cold when freezing chamber doors are opened,
Sliding strip curtains between two adjoining agricultural sheds – the curtain is only opened to let large machinery through,
Food contact PVC strip curtains installed in front of rail passages in abattoirs,
Flexible PVC strip doors on refrigerated trucks.
See SPENLE's other doors and protections intended for the food industry