Food industry
Flexible pvc swing doors – SP2100
The SP2100 flexible swing door is a simple, economical and highly effective double-acting door that improves thermal insulation in factories and warehouses.
Smooth passage guaranteed, plus enhanced insulation at a low cost!
Consisting of a solid grade 304L stainless steel structure with its integrated, protected return system, and flexible PVC leaves, the SP2100 door is highly suited to food environments and can be made in very large sizes, up to 6 m x 6 m.
Custom made to your measurements, the SP2100 flexible PVC swing door is supplied ready to fit.
ADVANTAGES of the SP2100 flexible PVC swing door

Grade 304L stainless steel version particularly suited to food industry and wet environments.
No maintenance required.
Heat loss and cold air leakage kept to a minimum since the door only opens partially and the flexible PVC doors conform to the shape of the volume passing through the door.
All stainless steel return system completely integrated in and protected by the tubular structure of the door for greater durability.
Compatible with the passage of overhead rails

Food industry

Cold insulation

Hygiene

Passage of forklifts

Washable

Recyclable
Technical specifications of the SP2100 flexible PVC swing door
The structure of flexible PVC swing doors

Very strong structure made of grade 304L stainless steel or coated steel
(see options below),
All stainless steel return system, integrated in the tubular structure and protected against knocks from trucks,
Rotation on an adjustable pivot on the floor,
Opening simply by pushing and automatic closing by an adjustable tension torsion spring,
90° hold open feature system available as an option.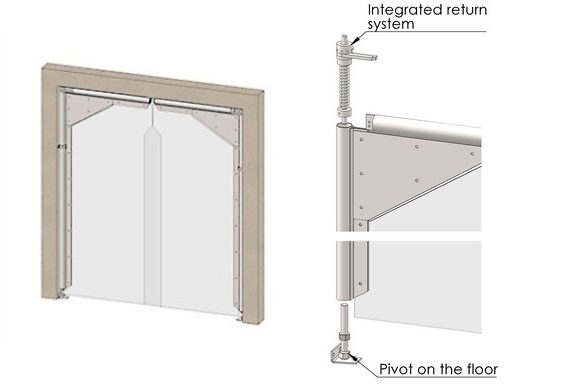 Flexible PVC panels
Flexible PVC panels with central overlap for the double doors,
6 or 8 mm thick,
Single-section panels, entirely transparent crystal or entirely opaque,
2-section panels with an opaque PVC impact-resistant section at the bottom and a transparent flexible PVC section at the top,
3-section panels with opaque PVC impact-resistant sections at the top and bottom, and a transparent PVC section in the middle to ensure visibility and guarantee safety.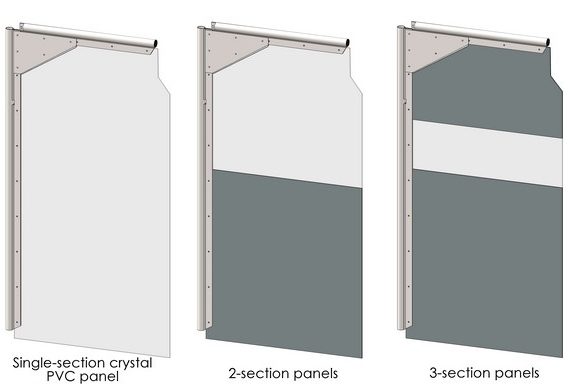 Colours of opaque flexible PVC
Replacement flexible panels are available from our Food industry spare parts section
Options
Hold open feature to facilitate and streamline flows through the door when necessary,
Single-acting movement – leaves open in only one direction,
More economical version with a coated steel structure.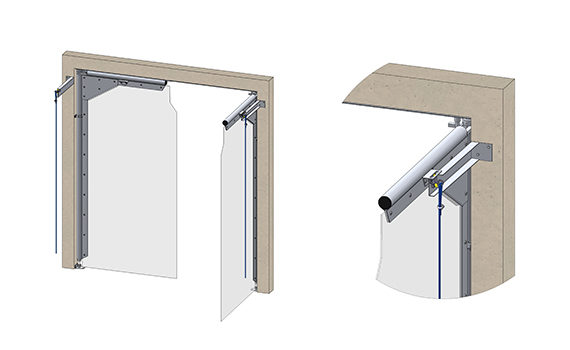 More detailed documentation including drawings, BIM files, etc. can be downloaded here.
Examples of uses of flexible swing doors:
Flexible PVC swing doors with suspension rail passage in abattoirs,
Single-swing flexible PVC door providing added insulation behind sectional doors on food unloading docks,
Flexible PVC door separating the stores from the food processing hall,
Flexible PVC and stainless steel swing door in a truck and food tank cleaning room.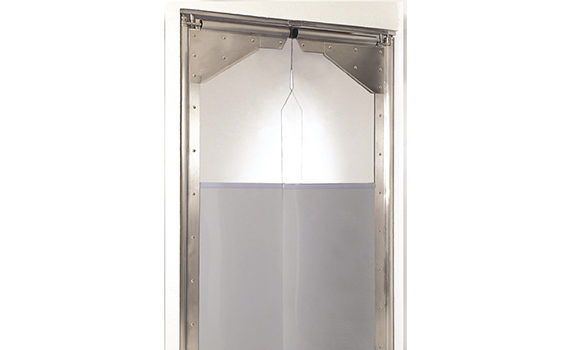 See SPENLE's other double swing doors dedicated to the food industry